News, Events, and Promos


Great Grandmaster Carlito A. Lanada, Sr., inducted to Master's Hall of Fame!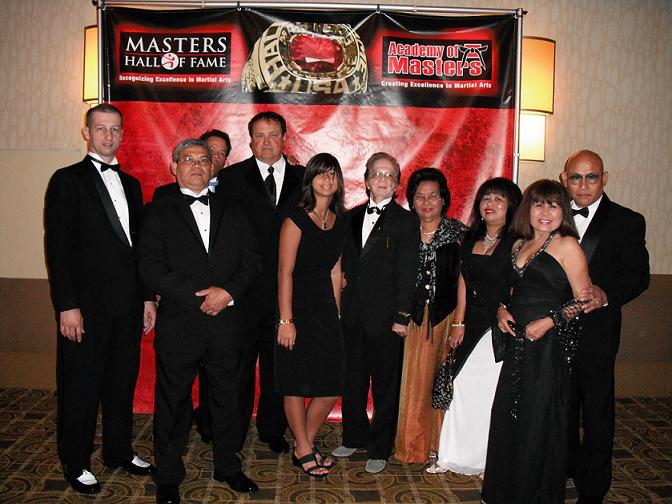 ---
KUNTAW Canada's 10th Year Anniversary!
On May 1, 1998, the De Leon family migrated to Canada and so as the KUNTAW Martial Arts. Immediately after, Master Marc started to introduce the art in various simple and quiet ways. He may not be the first Kuntaw black belt immigrant who settled in Canada, but he is the only one who has the courage,amidst all odds, to carry Kuntaw (IKF/KNP) and propagated this indigenous Filipino martial arts, and most importantly, introduced and proved to the martial arts communities that this unknown art is a formidable self-defense style that can be depended upon on both the tournaments and in the real-life street confrontations.On July 19, 2008, GM Carlito Lanada, Sr. and his family had graced this celebration amidst excitement of Kuntaw Canada's kyuds and kyudais and their families and friends.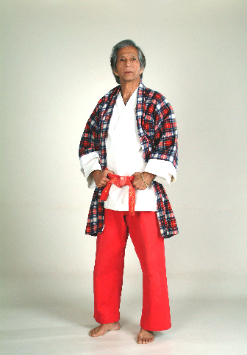 GGM Carlito A. Lanada, Sr.
Dakilang Apo Raha / Great Grand Master
Founder and the Brain of KNP / MKA / IKF / NATO
---
NEWS


GGM Carlito A. Lanada, Sr. confirms his Kuntaw Grandmasters!
GM Marc has been honoured and appointed as Kuntaw Grandmaster along with other five senior Kuntaw masters who have been chosen by the GGM to co-lead the Kuntaw community in promoting and propagating Kuntaw Martial Arts, and to protect and preserve the principles, standards, and traditions as established by GGM Lanada. GM Marc accepted this appointment with all humility, and his sincerest thank goes to GGM and his entire family. He shares this honour with all his kyuds and kyudais especially in Canada and in the Eastern Provinde of Kingdom of Saudi Arabia.

Below is the list of Kuntaw Great Grand Masters and Grand Masters.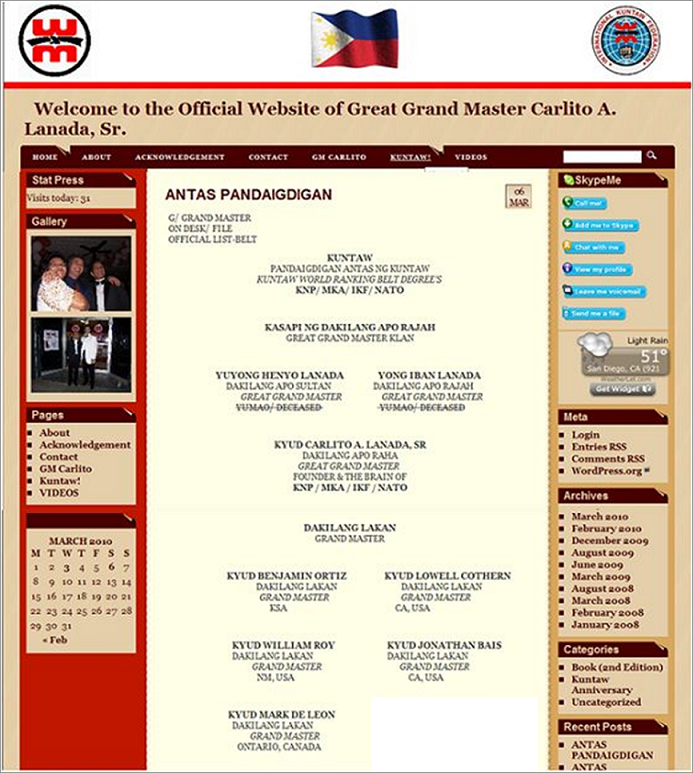 ---
PROMOS
2011 Promo: Free One Month training and a set of uniform
Learning self-defense does not have to be expensive. Our training fees and product prices are very competitive. For a very reasonable fee you will learn multiple arts: Kuntaw, Sikaran, Tagaan Arnis, Kawala, and Buno. That's five major FMA styles, and other styles that Master Marc has been trained through the course of his martial arts life.
Inquire about our family discounts and the graduated discounts attached to the different modes of payment. Most importantly, we issue a receipt for all your payments. Remember, Kuntaw Canada and Marc's Kuntaw Martial Arts are duly registered business entities.
In Canada, physical fitness programs such as martial arts training are eligible for a tax credit per child enrolled. For complete details, please go to http://www.cra-arc.gc.ca/whatsnew/fitness-e.html


Flyer Enrolment Stubs and Master Marc's Business Card Redemption
For Scarborough residents Kuntaw Canada flyers and Master Marc's business cards are posted and advertised in selected Asian shops and restaurants. Grab one and present upon personal inquiry for guaranteed discounts. This is an all-year-round promo!




---
ARNIS, etc. For Sale!!!
Imported direct from the Philippines! Kuntaw Canada has an import-export license. We have an inventory for ARNIS and Philippine flag for uniform patch. For merchandise inquiry and order, please call 416-894-6443 or email us

Retail Price:
Arnis sticks (pair, good grade) with a shoulder-strapped holster = C$35.00 ** currently OUT OF STOCK **

Philippine Flag (uniform patch) = C$5.00

Wholesale/Instructor?s Price:
Please call 416-894-6443 or email us for a special price.

Mode of delivery is PICK-UP only.
Back to top
Copyright © 2008 Kuntaw Canada
Website design by: Marc Adrian De Leon